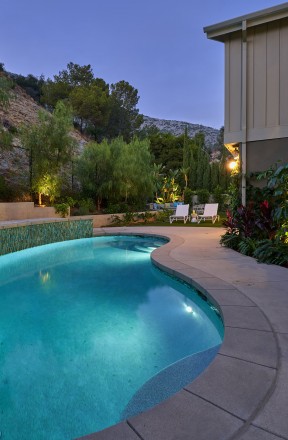 LUXURY LEASE IN LAKE HOLLYWOOD ESTATES
5 Beds
•

4 Baths

•

2,984 SF

•

21,344 SF Lot

•

OFFERED FURNISHED

•

POOL | SPA | FIRE PIT

•

$10,995/Month

6435 Innsdale Dr, Los Angeles, CA 90068

Imagine floating above Lake Hollywood and resting below the Hollywood sign. Sounds like a dream...or at least a dream location. But 6435 Innsdale Drive in Hollywood California is a reality, and fits that dreamy description. This exemplary example of modern Hollywood architecture features 5 bedrooms (including a master suite with city lights views) and 4 bathrooms. The residence's public rooms include a spacious entry which showcases a custom-designed modern stair rail. An open floor plan combining living and dining, and the home's high-end new kitchen flows into a large family room with sliding-glass doors that bring the outdoors inside.
Los Angeles life at its best includes as much time outdoors as possible. Here, at Innsdale, there's no better way to live the California dream--indoors melds with outdoors. Amenities under the sun and the starry night sky include a sparkling pool and spa (with water feature), an outdoor dining area, and a conversation area (big enough for large gatherings) surrounding an over-sized fire pit.
A well-considered floor plan places 1 guest room suite on the first floor. Upstairs are 4 other bedrooms (2 en suite), including the house's master with its walk-in closet, double-vanity bathroom with separate step-in shower and soaking tub.
This home is built for efficiency, as well as luxury. A large laundry area with storage makes housekeeping a breeze. An over-sized 2-car garage solves the question, "Where do I put my...?"
No expense has been spared to make guests feel right at home here on Innsdale. The home is rented furnished with large pieces, and is big enough (at almost 3,000 sq.ft.) to accommodate a tenant's art or additional possessions (if needed).
This renovated and expanded Lake Hollywood residence has been professionally-designed by the renowned firm of Vaughan Benz. Included in the furnishings are select pieces from Four Seasons Downtown New York and Intercontinental Wilshire Grand Hotel collections.
See FEATURES and NEIGHBORHOOD tabs for detailed information about this luxury-level lease.
INTERIOR:
Offered fully-furnished and professionally-designed by Vaughan Benz, including selected pieces from Four Seasons Downtown New York and Intercontinental Wilshire Grand Hotel collections
Fully-permitted renovation and expansion
Lofty ceilings in living room, dining room, and master bedroom
North American walnut floors throughout
Bathrooms have ceramic tile floors by Vitra
Custom-made staircase railings
New windows throughout
New HVAC system
All bedrooms have ceiling fans by Modern Fan Company
Most lights are dimmable LED
Custom cabinetry throughout (bathroom, laundry room, kitchen island, and closets)
Most kitchen cabinets are from Kraftmaid
Kitchen with grand center island and stainless-steel appliances including Wolf range, Bosch dishwasher, built-in Sharp microwave, and wine fridge
Vintage (original to the house) mid-century dining room chandelier
2 HD flat screen smart televisions
Renovated/restored fireplace
New construction (addition) master bedroom with walk-in closet with custom cabinetry
3 bedrooms with en suite bathrooms
Downstairs bedroom can be "mother-in-law" suite or maid's room
2 upstairs "dueling" master bedrooms and bathrooms have city lights views
Master bathroom with high-end Apaiser free-standing bathtub, spacious walk in shower, Seura TV built-in to the mirror
Customized "showroom" master closet
Hardcore wood doors (all bedrooms, bathrooms)
Step-in rain shower in downstairs bathroom and master bathroom
New bathrooms with all-new top-of-the-line fixtures by Hansgrohe
Remodeled laundry room with new Samsung washer and dryer
New light fixtures throughout • Gas/wood burning fireplace with new tile surround
Selected vintage mid-century classic furniture
Skylights
Accessible attic for additional storage
Security system/cameras
OUTDOORS:
Architectural styling from California's mid-century design period
DTLA views
Pool, grassy lawn, gated entry, indoor-outdoor living
Fire pit with seating area
Sonos indoor/outdoor sound system
Audio system installed with speakers throughout house and exterior
Security camera system
Doorbird entry gate system
New heated pool and spa
Professionally landscaped by Steve Silva
Drought-tolerant landscaping
Fruit and vegetable garden
Moroccan fountain in front gated courtyard that attracts hummingbirds
Touch pad locks at exterior gates
Custom metal work at entry gate and stairway
High speed Internet throughout with Wi Fi and Ethernet throughout
LED lighting at exterior
The Hollywood Hills are the part of the Santa Monica Mountains. The neighborhood touches Studio City, Universal City and Burbank on the north, Griffith Park on the north and east, Los Feliz on the southeast, Hollywood on the south and Hollywood Hills West on the west. It includes Forest Lawn Memorial Park, the Hollywood Reservoir (Lake Hollywood), the Hollywood Sign, the Hollywood Bowl and the John Anson Ford Theater. Hollywood Hills is bisected southeast-northwest by US 101. The neighborhood is bounded on the northwest and north by the Los Angeles city line, on the east by a fire road through Griffith Park, continuing on Western Avenue, on the south by Franklin Avenue and on the west by an irregular line that includes Outpost Drive. The neighborhood of Hollywood Hills includes the Hollywood Bowl and Forest Lawn Memorial Park (Hollywood Hills) as well as two private and three public schools.
Hollywood Hills contains several neighborhoods:
Laurel Canyon
Beachwood Canyon
Bronson Canyon
Gower Gulch
Cahuenga Pass
Franklin Village
Hollywood Heights
Hollywoodland
Outpost Estates
Whitley Heights
Lake Hollywood Estates
The Dell
A total of 21,588 people lived in the neighborhood's 7.05 square miles, according to the 2000 U.S. census—averaging 3,063 people per square mile, among the lowest population densities in the city or the county. The population was estimated at 22,988 in 2008. The median age for residents was 37, considered old for the city and the county. The percentages of residents aged 19 through 64 were among the county's highest.] The neighborhood is "not particularly diverse" for the city, the diversity index being 0.433, and the percentage of white people is considered high, at 74.1%. Latinos make up 9.4%, Asians are at 6.7%, African American at 4.6% and others at 5.3%. In 2000, Mexico (7.9%) and the United Kingdom (7.8%) were the most common places of birth for the 22.8% of the residents who were born abroad, which was considered a low percentage of foreign-born when compared with the city or county as a whole.
The median household income in 2008 dollars was $69,277, considered high for the city but about average for the county. The percentage of households earning $125,000 or more was high, compared to the county at large. The average household size of 1.8 people was relatively low. Renters occupied 56.5% of the housing units, and homeowners the rest. In 2000, there were 270 families headed by single parents, or 6.9%, a rate that was low in both the county and the city. Also reported in 2000, 54.8% of residents aged 25 and older held a four-year degree, considered high when compared with the city and the county as a whole.
There are five secondary or elementary schools within the neighborhood's boundaries:
Immaculate Heart High and Middle School, private, 5515 Franklin Avenue
Valley View Elementary School, LAUSD, 6921 Woodrow Wilson Drive
The Neilson Academy, private, 2528 Canyon Drive
Cheremoya Avenue Elementary School, LAUSD, 6017 Franklin Avenue
The Oaks, private elementary, 6817 Franklin Avenue
Additionally; The American Film Institute (AFI) is located at 2021 North Western Avenue.

Jeff Yarbrough
Realtor & Founder
DRE# 01341959
323.854.4300

Wendy Cortese
Realtor
DRE# 02046719
917.692.0766
Request A Showing or More Info: